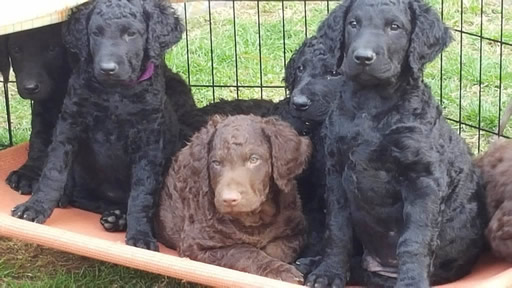 CCRCA Breeders Directory
California
Iris Andre
PIZZAZZ Curly-Coated Retrievers
Granite Bay, California
Website

Ph 916-825-5998
Breeding since 1987.
Puppies available from time to time, check website for updates. Occasionally older, started dogs available. Breeding for hunting, obedience, show and breed preservation.
Florida
Megan Mello
Elflock Curly-Coated Retrievers
Jacksonville, Florida

Ph 904-616-3894
Second generation continuing Elflock Curlies since 1990. Puppies available from time to time. Breeding for well balanced, structure, temperament, great health, and versatility. All parents are health tested prior to breeding.
Illinois
Jennifer Collins
C3 Retrievers
Edwardsville, Illinois  62025

Ph 618-971-5989
Maryland
Scott and Kathy Shifflett
Kurly Creek Curly-Coated Retrievers
Tracys Landing, Maryland

Ph 301-538-2124
Kurly Kreek was established in 1997
Puppies are available from time to time. Adult dogs are available occasionally. Check with us for availability.

We breed for breed preservation, temperament, health clearance on parents. Our Curlies are bred for health, type, temperament, obedience, field, agility and as companion dogs. We have produced BIS winners and a BISS winner. We produce dogs that excel in all facets of a Curlies realm of activities.

Member of Good Dog.
North Carolina
Leslie Puppo Rogers
Avanti/Avalon

Ph 704-754-2057
Ph 707-245-7537

Breeding curlies since 1992.
Breeding for correct structure, temperament and health. Puppies occasionally, if we don't have anything available we will help you connect with other breeders. Adult dogs available occasionally.
All health screening is reported to OFA

Ohio
Mary Kay Morel
KYRACO Curly-Coated Retrievers
Maineville, OH 45039
Website
Facebook
Instagram: Kyraco Curly-Coated Retrievers

Kyraco CCRs founded in 1996.
AKC Breeder of Merit — CCRs and WSS. "Boutique" preservation breeder, with puppies available only rarely. Goal is to breed healthy, sound Curlies that meet the ideals of the AKC breed standard and are versatile companions for show, field, performance and other venues.

Wisconsin
John Heyn
NYEHYRST Curly-coated Retrievers
Seymour, Wisconsin
Website
Ph 920-327-3606


Janean Marti
PTARMIGAN Curly-coated Retrievers
Wisconsin
Website
Facebook


Breeding since 1984.
Temperament and Health are our breeding priorities. BIS/BISS hunting companions.
Club Disclaimer
The CCRCA does not endorse, recommend, and/or prefer one breeder to another. There are requirements to be listed on this Breeders Directory, see the link at the top right of this page to read them.
Below are links to several good articles to read BEFORE buying a puppy:
http://www.akc.org/akc-dog-lovers/why-buy-from-a-responsible-breeder/
https://www.akc.org/expert-advice/dog-breeding/eight-signs-of-a-responsible-breeder/
http://www.akc.org/dog-owners/future-dog-owner/about-buying-a-dog/
PLEASE do your "homework" before investing in a dog.  Its what's best for the dog as well as you and your family.