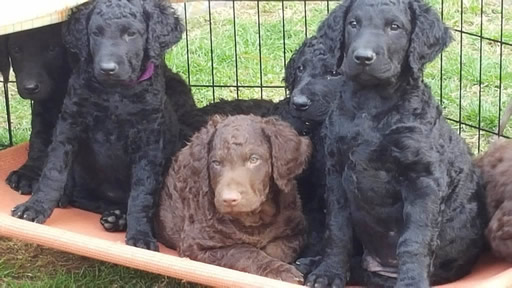 CCRCA Breeders Directory
California
Iris Andre
PIZZAZZ Curly-Coated Retrievers
Granite Bay, California
Website

Ph 916-825-5998
Breeding since 1987.
Puppies available from time to time, check website for updates. Occasionally older, started dogs available. Breeding for hunting, obedience, show and breed preservation.
Illinois
Jennifer Collins
C3 Retrievers
Edwardsville, Illinois  62025

Ph 618-971-5989
Ohio
Mary Kay Morel
KYRACO Curly-Coated Retrievers
Maineville, OH 45039
Website
Facebook
Instagram: Kyraco Curly-Coated Retrievers

Kyraco CCRs founded in 1996.
AKC Breeder of Merit.
Wisconsin
John Heyn
NYEHYRST Curly-coated Retrievers
Seymour, Wisconsin
Website
Ph 920-327-3606


Janean Marti
PTARMIGAN Curly-coated Retrievers
Wisconsin
Website
Facebook


Breeding since 1984.
Temperament and Health are our breeding priorities. BIS/BISS hunting companions.
Club Disclaimer
The CCRCA does not endorse, recommend, and/or prefer one breeder to another. There are requirements to be listed on this Breeders Directory, see the link at the top right of this page to read them.
Below are links to several good articles to read BEFORE buying a puppy:
http://www.akc.org/akc-dog-lovers/why-buy-from-a-responsible-breeder/
https://www.akc.org/expert-advice/dog-breeding/eight-signs-of-a-responsible-breeder/
http://www.akc.org/dog-owners/future-dog-owner/about-buying-a-dog/
PLEASE do your "homework" before investing in a dog.  Its what's best for the dog as well as you and your family.