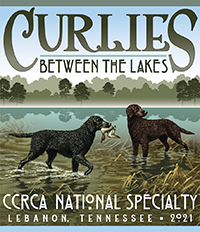 Trophy Sponsor
Please support your National by sponsoring an event, class, or winner from this list or make your donation to the General Trophy Fund.  All sponsors will be listed in the catalogs.  Consider making a trophy donation as a gift to honor a friend, breeder, mentor, puppy owner, etc.  Sponsorships also are accepted as "in memory of" or "in honor of" a person or dog. All awards given to Curly-coated Retrievers only.  All trophy sponsors will receive a commemorative gift.  Thank you, in advance, for your donation!

Download the form HERE. To have your donation published in the catalogs, your donation must be received by May 19, 2021. Please make checks payable to CCRCA and mail a check to Kathy Shifflett at the address below.

Kathy Shifflett
5927 Franklin Gibson Road
Tracys Landing, MD 20779

Please use the DONATE button below to use PayPal, where you can designate the amount of your donation.

As you probably already know a fee will be deducted from your donation for bank and PayPal fees, generally around 3%. Please consider adding a little extra for the convenience of using your credit/debt card for payment.

If you wish to sponsor a specific award please notice, immediately below the box for your donation amount is a note "Please advise the Event/Class (Sponsor)," click the plus (+) and write your first choice, and two alternatives, in the event your first choice has already been chosen. If sponsoring more that one event or class, separate the events with a semi colon.

If a specific trophy is not requested, the donation will be applied to the General Trophy Fund (GTF). Members may donate any amount to the GTF. Any unused donations made to specific classes/awards will be allocated to the GTF.

We greatly appreciate you generous help in making the Specialty a success!

The CCRCA BOD thanks you for your generosity in supporting the CCRCA 2021 Trophy Donations. Without the support of our membership, it would be difficult to provide these prizes to our beloved CCRs.


If you have questions, Kathy may be reached at 301-261-9484 or .