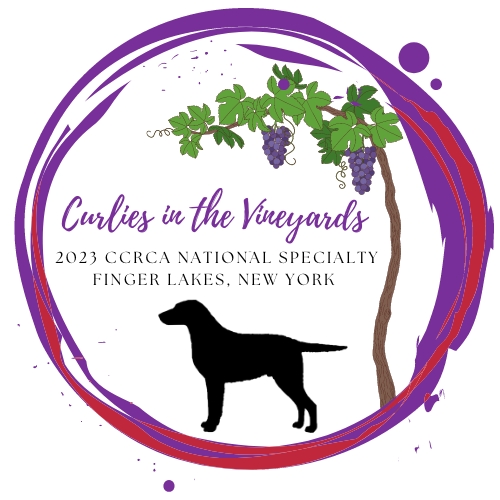 Reserve your space today for the
2023 National Specialty Catalog!

We strive to make it better and better every year and it can happen with your support and participation.
Once again we will produce a FULL COLOR catalog! This is your chance to share:
Accomplishments, Titles, Awards, Memorials, Litters, Studs, Best Wishes & MORE!
We want to share your Curly experiences from duck blind to the sofa!
Visit the www.ccrcanationalspecialties.weebly.com website to view and enjoy previous specialty catalogs.
FULL PAGE ADS ARE - $75
TWO PAGE SPREADS - $140 ($10 SAVINGS!)
THREE PAGE SPREADS - $210 ($15 SAVINGS!)
FOUR PAGE SPREADS - $280 ($20 SAVINGS!)
FIVE PAGE SPREADS - $350 ($25 SAVINGS!)

You will receive a FREE catalog valued at $25 for EVERY ad page purchased!
(For instance, a 1 page ad receives 1 FREE catalog or 2 page ad receives 2 FREE catalogs)


NOTE: PLEASE MAKE CHECKS PAYABLE TO CCRCA or use the PayPal buttons, below.

Ad Specifications

Ads must be camera ready in vertical format and sized to 4 ½ (w) X 7 ½ (h).
If you are a 2022 National Specialty Winner, you have first right of refusal on placing a full page ad commemorating your win in this catalog. If you do NOT reserve your "win" page by May 1st, it will be offered to previous years' winners of that award.
Ads must be received by July 15, 2022, in order to appear in the Specialty Catalog.
Due to Copyright issues, please do not include any professional show photos and/or photos without photographer consent. Please do not use win photos that inlcude judges
The catalog will be in color, but if you submit a B & W photo, it will be printed in B & W.

Mail forms, ads and payments, if you prefer to send a check, to:
Jennifer Harms, 4928 Annette Drive, Tallahassee, FL 32303



You can use PayPal, here, or send a check with the Ad form. To download the Ad form, click here.
Please note 3.5% is added to each ad to cover the fee PayPal charges for processing your order.
For Catalog only purchases

Catalogs are $25.00 plus 3.5% service if you'll pick it up at the Specialty, or for an additional $5.00 each, you can have it mailed to you within the U.S. Contact team for postage outside the U.S.

Pre-Paid CATALOGS to be PICKED UP
PRE-PAID CATALOGS to be SHIPPED
Thank you