Curly Commentator Submissions Policy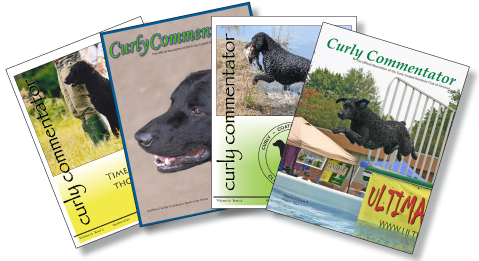 The Curly Commentator isthe official publication of the Curly-Coated Retriever Club of America and is published and distributed to members bi-monthly for a total of six times per year. Non-members may also subscribe to receive the Commentator.
(Contact )
Submissions
1.
Requirements

Name of the author(s) and submitter if not the author.
Submissions will be as MS Word or text files.
Ideally submissions will contain no embedded images, tables or other formatted items. The individual photographs must be sent as separate attachments.
All submissions will meet the editorial standard of the CC, which is inclusive of, but not limited to the motions and bylaws of the CCRCA, and standards of courtesy.

2.
Submissions may be returned to submitter for changes as requested by the editors.


3.
All submissions are subject to editing for length, grammar, syntax and style at the sole discretion of the editors. If this is required, we will make every effort to contact the author prior to publications.


4.
The preferred submission fonts are Garamond, Arial or Times New Roman.


5.
Submission may be made or the editor's US mail address on the inside front cover of the Commentator. The editor is not responsible for lost materials. If you wish to have hard copies of photographs returned, please include a SASE for the items.


6.
Questions regarding useable materials must be submitted to the editor no later than the 5th of the month preceding the deadline to assure adequate response time. The deadline for finished submissions is 5PM Pacific Time (daylight or standard as it occurs) on the 10th of the month.


7.
The CC reserves the right to hold over submissions as required by production constraints and conditions.


8.
The ideal digital photograph for the CC is a 600 dpi jpeg file. The editors will check other resolutions for acceptability, but reserve the right not to use any digital photo or hard copy photograph that does not produce an adequate copy for publication. Prints or electronic files may also be mailed.



Special Requirements for Regional Club submissions

1.
Name of the submitter, full name of regional club.


2.
Clearly labeled as a regional club article/event submission.



Advertising

1.
Breed advertising for members only. Commercial advertising for members & non-members.


2.
All copyrighted material must include a letter from the original publisher or photographer giving authorization to reproduce such material. The following types of information are acceptable:

Camera-ready artwork.


Digital files.
Digital files with photos or scanned images may be submitted on disk or by email. Scanned images are preferable at 600 dpi in color or grayscale for ideal rendering. Ads must be kept to a printable area of 7.25" width x 9.5" inches height to be assured of fitting within the Commentator without editing. Fonts used should be True Type fonts to accommodate re-sizing. Digital files may be submitted by email as attachments.

Digitally submitted files must be in a file format, and disk storage medium readily accessible by the editors. (Call or email for information.) Scans should be at 600 dpi in color or grayscale for ideal rendering, but lower resolutions will be accepted. Submit digital files . All digital files not owned by the advertiser, must be accompanied by written release of the owner.


Photographs and written instructions on what is desired.
These submissions will require time from the editors to compose, and will receive no guarantee of publication in a specific issue. Enclose a self-addressed stamped envelope for return of materials. If no SASE is included, your materials will be sent into the club archive. For highest quality from scans, send 600 DPI grayscale or color scans.

3.
Note: Ads submitted that are not print quality ready may be modified, re-created or returned at the editor's discretion. Advertisers wishing that the artwork not be modified must specifically note this when artwork is submitted. The editor reserves the right to refuse any advertisements, articles or reports found to contain inappropriate and/or objectionable materials.


4.
Deadlines: the tenth day of every odd month at 5 PM Pacific Time: Jan 10, March 10, May 10, July 10, September 10, and November 10. The committee reserves the right to decline advertising copy, articles, or other submissions based on space considerations and/or appropriateness of the material.



Ad Disclaimer

The CC accepts ads in good faith and makes no representation as to the truth, accuracy or sufficiency of any advertisement, which remains the sole responsibility of the advertiser, who assumes full liability for all content (including text, illustrations, trademarks and copyright matters).

The advertiser agrees to indemnify and hold harmless the CC and its officers against all loss, liability, damage, and expense of whatsoever nature arising from the copying, printing or publishing of its advertisement.



Remailing Provisions

The hard copy Curly Commentator will be mailed first class mail only to those members who have paid the additional fee. If an individual does not receive their Commentator in the first class mail by the USPS within 5 weeks of original mailing, the individual should contact their Division Director and an additional copy will be mailed immediately. The member may contact the editor by .