Curlies Remembered
The CCRCA Memorial Plaque, a perpetual rescue fund-raiser started in 1997, is available for viewing at each CCRCA National Specialty.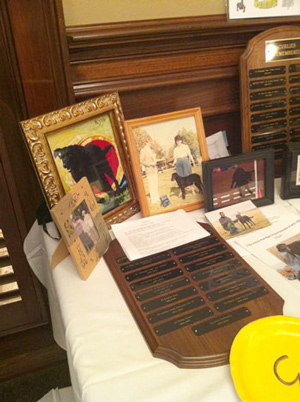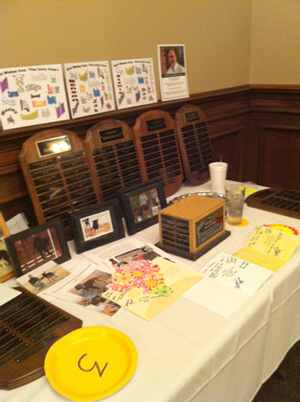 You may remember your own or a friend's deceased Curly by donating to this ongoing rescue fund-raiser. For a contribution of $20.00, a brass plate engraved with the Curly's name is attached to the plaque. The rescue chairperson will send the Curly's owner an In Memoriam card that acknowledges a contribution made in the Curly's name. If you would like to remember a special Curly, send the Curly's complete name including titles earned, year of birth, year of death, owner's name and address, and a check for $20.00 written to the CCRCA Rescue Fund to: Sheila Callahan-Young, 3 Roberts Court, Gloucester, MA 01930 (Sheila's phone
978-281-3860
).
The club newsletter publishes memorium pieces, to provide your dog's information, please
download and fill out the form, click here.
When completed please email the form to the CC editors at the addresses listed on the pdf.
The following Curly-Coated Retrievers are included on the plaque:
Ch Softmaple Gunflint Beauty CGC ROM
2002 - 2015
Ayershire Shades of Blue
2008 - 2017
Ch Summerwind Neverending Promise CGC THDD
2004 - 2017
HRCH U-CD CH Charmstar On The Road With Gypsy Rose Sw RE CDX MH UWC WCQ10     CGCA CGCU ROM HOF
2004 - 2017
UCD CA UR03 UAGII BIS/UKC GRCH INT'L/AKC CH Summerwind Rainbow's Promise CD BN     RE NAP NJP CA THD CGC CGCA CGCU RATI RATN SS SWET BPS TT TDI TDIA TDI-DSR
2002 - 2017
INT'L/AM U-GRCH U-CD U-RO3 GCH CH Kyraco Kyrabean Caper CD BN RE NA NAJ CGC TDI     TT WC WSCSg-CH-G MBIS
2003 - 2016
GCH Charwin Bling Bling CD BN RA
2007 - 2016
UKC/CH Ch Landaracurl Royal Crown Princess UD BN GN CGC
2007 - 2016
Ch Nyehyrst Edge of the Dock CD RE JH UWC WCX
2006 - 2016
Ch Marshqurl's Rudy CGC
2006 - 2016
HR GCH Softmaple's Dark Star CDX SH CGC WCQ4 UWC
2005 - 2016
Ch Summerwind Delight of Kurly K
2004 - 2016
CBIMBS U-CH UR01 Summerwind Mayflower BN RN
2010 – 2015
Summerwind's Kismet
2004 – 2015
Ch Summerwind Kurly Kreek Vento
2004 – 2015
Summerwind's Most Valuable Player RN
2008 – 2014
AKC/UKC Ch Kyraco Kyrabean Holiday RE NAP TT TDI CGC
2003 – 2014
UAG2 UNJ URO3 URO2 URO1 UCD SHR UAGl UWP Am/Int'l Ch U-GRCh Beltane's Bodacious Blue CGC CD RN JH NA NAJ OAJ RA RE BN WC UWC2 BPS SS SWET
WETT TT TDI RATI
2002 – 2014
Beltane McCabe's Lucy
2002 – 2014
Ch Kurly Kreek Fly The Flag
2000 – 2014
Ch Addidas Jaspar
1999 – 2014
Ch Riverwatch Livin the Dream NA NAJ
1999 – 2014
U-BIS U-Ch GCh Kyraco Kyrabean Grand Reflection CA
2011 – 2013
Carapciu Ravenna
2008 – 2013
Springcurl Royal Doulton At Landaracurl CGC TDI CD RN TD
2004 - 2013
Ch Kyraco Kyrabean Sun N'Air WC CGC
2003 – 2013
Beltane's Soft Maple Bella Regina
2002 – 2013
Ch Crosswind's Desert Song of SW ROM
2001 – 2013
Ch Riverwood Fairway Luxury Lexus RN CGC TT
2000 - 2013
Summerwind Jamaica Stars
2000 - 2013
Ch Wannawin Sundevil Warrior WC CGC
1999 – 2013
Ch Riverwatch Midsmrnites Dream
1999 – 2013
MSU Ayershire Emperor Augustus
2010 - 2012
URO1 UCH Ayershire's When Will We Learn?
2008 - 2012
Ch/OTCh Charwin Ricochet UDX OM2 GN GO RE U-UD ASCA CDX WCQ SH UWC WR AX AXJ NAP NJP RS-N RJ-N
2004 - 2012
Daddy's Summerwind Dream
2004 – 2012
Ch Shadowbrook It's A Twister CD
2004 – 2012
UAGll UCD URO1 ALCH CH Summerwind Jamaica Me Stir it Up VCD2 TDX CDX RAE BN GN MX MXJ MXP MJP3 MJPB OFP ASCA-CD PD2 PS2 PK2 PJ2 PG1 PR1 O-OAC OCC EJC O-TN-E TG-O S-WV-O HP-O CGC TT
2000 - 2012
SHR Ch Watermark Blazn Downdatrail RN
1999 - 2012
NAC SR SW Charmstar Enchanted Color CDX RAE1 NA NFP OAP OJP JH
WCX UWC CGC TT
1997 - 2012
Am/Mex/Int Ch Mayhem's Hearsay Evidence CD WC CGC HC CAT NJ
FGD40K TT TDI HOF
1995 - 2012
Softmaple Rainwatcher
2002 – 2011
GCh Coventry Cottage Toll Cashmere CGC CD RN NAP OJP
2005 – 2011
Am/Can/Mex/Int Ch Solimars Black To The Future CD JH WCQ SPD CGC TT
2001 - 2011
Ch Fairway's Softmaple Finnair CD RA NF OJX AX
1999 – 2011
U-SHR NAHRA-SHR U-HR U-CD U-Ch Am/Int Ch Summerwind's Christmas Carol
JH CD RE WCQ CGC
1999 – 2011
MBIS MBISS SR Ch Fairway It's My Party CGC WCX JH ROM
1999 – 2011
U-CH Ch Riverwatch Destiny's Dream RN NJ TT TDI CGC
1999 – 2011
Ch Solimar's Alibi WC FG40K JJ CGC SRD
1998 – 2011
Riverwatch Mickey's Black Licorice
1998 – 2011
You Bought A What? SH
1998 - 2011
UAG1 URO1 Sherwoods Seasaidh Moon Song VCD1 TDX CD RAE NA NAJ NAP NJP ASCA-CD O-NCC S-NJC S-TN-N O-HP-N CGC
1998 – 2010
F.CH2 UCh/Ch Ptarmigan Song of Hiawatha JH WCX UWC
1999 – 2010
F.CH HRCH UH Ch Chocca-Shaw Irish Blessing MH WCQ UWC
2002 – 2010
CCRCA S.Carolina Rescue Mellow Milo
? – 2010
Ch Nyehyrst Nemesis
2000 – 2010
Bluespruce Dom Perignon
2007 – 2010
Ch Bluespruce Pressing On
2006 – 2010
Bluespruce Positively Déjà vu

2006 – 2010
Charlie Brown
2000 – 2010
Summerwind's Why Are You Surprised
1998 – 2010
UKC-CDX Int'l/Am AKC Ch Summerwind's Great Expectations CDX RA WC CGC
1999 – 2010
Bluespruce Jasmine Rose
2007 – 2009
Ch Addidas Yatzee CGC TT TDIEVA
1999 – 2009
Riverwatch Dreamweaver CD RN NA NAJ TDI
1999 – 2009
Ch Fairway Amazin Midnite Bash
1999 – 2009
HR Choccashaws Black Agate SH WCQ
1997 – 2009
Summerwind Jamaica Drink Mon CGC
2000 – 2008
U-AG1 Ch Ptarmigan Huron's Soft Echo CGC TDI
1999 – 2008
AM/INT'L Ch Ranah's L.B. Jug CGC
1998 – 2008
Ch Dese's Black As Coal CD WC JH RN TT CGC ROM
1997 – 2008
Ch Addidas Final Hurrah TT
1996 – 2008
Ch Summerwind Midnght Thunder CD CGC
1995 – 2008
Ch Riverwatch Windwalker TT TDI
1994 – 2008
Calypso's Tika Del Rio JH WC
1993 – 2008
U-CD Summerwind's Northern Thunder JH CD WCQ TT CGC
1995 – 2008
Ch Summerwind's Cool Runnings CGC ROM
1995 – 2008
UKC/INT'L Ch HR UH CS Honey Why Again? JH SH
2000 – 2007
Crosswind The Sho Must Go On OA OAJ AXP AJP RE RL2 ASCA CD CD-H O-NAC NGC NJC CGC
1999 – 2007
U-GR Ch AM/CAN Ch Fairway XTC Running Free CD TDIA TT CGC
1997 – 2007
Scout Gregory
1996 – 2007
U-AG1 Ch Riverwatch Avanti Tradewind CD NA NAP NJP CGC TDI
1994 – 2007
U-ACHX UCDX Addidas Time Is On My Side CGC TDI CDX NA
1994 – 2007
Ch Adept And Spring Brooks Contessa
1993 – 2007
Ch Seawind Addidas Dragonslayer CDX JH WC CGC
1992 – 2007
Laketower Gryffindor Seeker
2001 – 2006
Ch Avanti Pizzazz Just My Luck RN CGC
1998 – 2006
Ch Fairway's Devilish Ace CGC CDX NA NAJ
1996 – 2006
SR U-Ch Ch Soft Maple Kyrabean Queen JH WCX CD U-CD RA OA OAP OAJ OJP U-AG1 TT TDI CGC HOF ROM
1996 – 2006
Ch Addidas Grace Under Fire TT CGC ROM
1996 – 2006
Ranah's I have A Dream
1995 – 2006
Charwin Duncan's Doonerak RN
1993 – 2006
HR AM/INT'L Ch Elflock Ranah's Rising Son CGC CD JH WCQ
1993 – 2006
Ch Addidas Such Charm TT ROM
1993 – 2005
Ch Pizzazz Avanti You Go Girl CGC
1998 – 2005
Ch Sun Devil Cerulean CD JH WC
1998 – 2005
Ch Pizzazz Avanti You Go Girl CGC
1998 – 2005
Addidas Last Chance CGC TDI UD U-CDX U-AGII
1996 – 2005
AM/INT'L Ch Ranah's Black & Baloo CGC
1995 – 2005
Ranah's Harlem Renaissance CD CGC
1991 – 2005
Ch Cape Ann Water Wing NA CGC
1990 – 2005
Ch Chocca Shaw's Blazin Blizzard CGC TT ROM
1994 – 2004
Coventry Commotion
1993 – 2004
Karakul Zelda CGC
1992 – 2004
Ch Cape Ann Thompson Mtn Buck CD CGC
1990 – 2004
Ch Cape Ann My Bud Willmiester CD CGC
1990 – 2004
Ch Ptarmigan Jollybodies Whirr
1988 – 2004
AM/CAN/UKC Ch Ptarmigan Gale at Riverwatch CD WC CGC TT TDI
1991 – 2003
Dese's American Truffles
2001 – 2002
Riverwatch Fire At Will CD
1997 – 2002
Ch Addidas Alpha Monopoly CGC TT
1992 – 2002
AM/CAN Ch Boyerie's Andouille O'Wits' End
1988 – 2002
Ch Wits' End Rangatira UD TT CGC TDI
1988 – 2002
Ch Froehlich Raoj Schokolade CDX TT CGC TDI
1987 – 2002
Ch Jollybody Cape Ann Summer
1987 – 2002
Ch Ptarmigan Rainy Day Jonah CD
1986 – 2002
Addidas Mad About You
1996 – 2001
Ch Charwin Fallen Angel WC
1996 – 2000
Ch Ranah's Gulf Pearl O'Bobroban CD TT CGC
1988 – 2000
Ch Ptarmigan Jollybodies Whiz
1988 – 2000
Ch Ptarmigan Sun Devil CD JH WCX
1988 – 2000
Ch Charwin Against the Wind WC
1987 – 2000
Ch Karakul Raggedy Andy TT
1985 – 2000
Ch Karakul Titan
1986 – 1999
Ch Longplain Karakul Chance CD WC ROM
1983 – 1999
Fairway XLNT Adventure
1997 – 1998
Ch Haamorin Indeksi ROM
1991 – 1998
Ch Ptarmigan I Write The Songs CD TT CGC TDI ROM
1985 – 1998
Roughcurl Pinot Noir
1996 – 1997
Ch Fairway's Hall of Famer
1993 – 1997
Ch Ptarmigan Tin Roof Blues WC
1984 – 1997
Ch Pentar Flynne
1984 – 1997
Ch Ptarmigan Walk the Wild Side
1991 – 1996
AM/CAN Ch Wimberway's Curly Baybelle ROMX
1981 – 1996
Jylland Radiant Rudolph UD
1981 – 1996
Ch Addidas SW Tom Foolery CD TT CGC ROM
1986 – 1996
Jar-em's Cape Ann Lady Jersey
1985 – 1996
Ch Starview Rebel W'out Duclaws CD CGC TT
1992 – 1995
Ch Ptarmigan Black Bart's Ballad ROM
1985 – 1995
Ch Windpatch Fivor Newsworthy CD
1980 – 1995
Ch Ptarmigan Your Wildest Dreams
1991 – 1994
Starview Lady Kodi of Matuka
1991 – 1994
Ch Ptarmigan Tintinnabulation
1984 – 1994
Ch Aussie's Cinnamon Twist SW TT
1986 – 1993
Ch OTCH Coventry Black Angus UD WC
1985 – 1993
Ch Charwin Scirocco CDX WCQ SH WR ROMX HOF
1984 – 1993
AM GER WORLD Ch Darelyn Reveller ROM
1983 – 1993
BISS Ch Summerwind's Ithaca CD
1981 – 1993
Sandbar's Camp Nine Rogge TT
1980 – 1993
Ch Cape Ann Ebtyde v Riverwatch CGC
1990 – 1992
Ch Summerwind's Charles Dickens CD WC TDI
1987 – 1991
Ch Karakul Echoes of Freedom CD WC ROM HOF
1977 – 1989
Ch Nightflight's Moon Madness CD
1980 – 1986
Banworth Ivurried WC
1977 – 1987
Ch Windpatch Rod's Meadowlark CD
1970 – 1981
Ch Windpatch Ebony Walkabout CD ROM
1974 – 1984